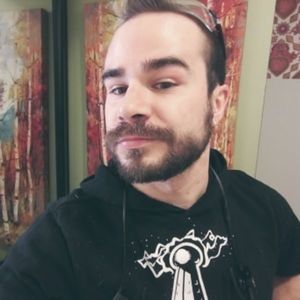 Austin Travis
Special guest
Austin Travis first became fascinated with vocal work as a child when he learned cartoons weren't real and humans were behind all of his favorite things. He has relished the practice of voice training over twenty years of classical and choral singing, and eighteen years of exploring character voices as a dungeon master for roleplaying games. He started making amateur recordings of public domain works in 2015, performs readings of bawdy verse at parties, and gives free weekly bedtime story readings on Facebook.
Austin graduated from the University of Nevada, Reno with a degree in Mechanical Engineering but decided that was too useful. He spends his days making custom furniture, kitchen knives, and taking on other commissions.
Austin Travis has been a guest on 2 episodes.
February 5th, 2021 | Season 1 | 47 mins 54 secs

audio drama showcase, drama, scifi, serial

We check out Season 1 Episode 9: Wheel in the Sky from this Military Scifi Time Travel adventure.

May 8th, 2020 | Season 1 | 49 mins 37 secs

audio drama showcase, horror, post apocalyptic

Today we'll be listening to Still Lives, which premiered in March of 2019 and was created by Colton Flick, James Currie, Sarah Schnebly (Shneb-lee), and Ríoghnach (REE-oh-noch) Robinson. Colton and Jamie had previously worked together on The Magical History of Knox County. When that show officially ended, they knew they wanted to work on something else, so they made a list of people they'd love to work with and started by emailing their two long-shot picks. Both of them wound up being interested, so they all started writing. Ríoghnach pitched Still Lives -- including the title, character names, and first episode synopsis -- pretty early on. They all loved the idea, so they picked it as their first project. This episode is called "The Quiet", and it was originally published on March 4th, 2019.